Making an Appointment
To make an appointment to see a doctor, please ring 8564 2266 between the hours of 8.30am and 6.00pm, Monday to Friday and 8.45am and 11.30am on Saturday. 
Every effort will be made to accommodate your preferred time. 
Emergencies will always be given priority and our reception staff will attempt to contact you if there is any unforeseen delay or your doctor has been called away.
Longer appointment times are available, so please ask our receptionist if you require extra time.
Appointments can also be made online via our website or you can download the HotDoc app on your mobile device.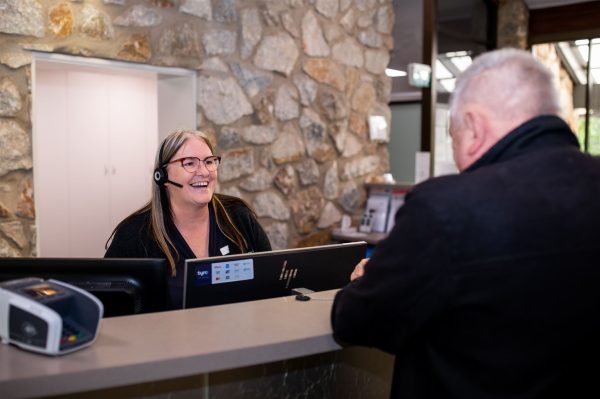 New patients
If you would like to transfer your whole patient care to the Angaston Medical Centre, we invite you to complete the below application form and submit to us. Our Patient Services Officers will be in contact with you within a week to advise if  your new patient application has been successful.
After Hours
We provide an emergency and casualty service, 24 hours a day, 7 days a week at the Angaston Hospital. In the case of an emergency, dial 000 for an ambulance. If it is not life threatening, though medical attention is required, please contact Healthdirect on 1800 022 222 for assistance. If you are seen after hours please be aware that there will be an out of pocket expense.
Out of Surgery Visits
We provide a home visiting service for those persons who are too sick to come to the surgery.  However, please remember that home visits are at the doctors discretion, and that the amount of time that each doctor can devote to home visits is limited. After hours we prefer to see patients at the hospital where additional equipment is accessible if required.
Swan Reach Services
Dr Griscti consults from Swan Reach on Wednesdays. Appointments can be made through the Angaston Medical Centre or through the Swan Reach Health Service on Wednesdays on 08 85702462.
Repeat Prescriptions
You will need an appointment with a doctor to get a repeat script.  If you have seen a doctor in the last 7 months, you can make a prescription only appointment which is available daily at either 9:00 am, 2:00 pm or 5:00pm.  This is a 5 minute appointment to get a repeat script only and you will be bulk billed. Some prescriptions do not meet this criteria. Please check with reception when phoning for an appointment.
Recall/Reminder System
This practice has a reminder system for preventative activities such as Pap smears, Cholesterol checks, vaccinations etc, as part of this practice's preventative medicine program. Our HotDoc recall system is an automated confidential service that allows us to send scheduled health reminders to patients via SMS. Please let staff know if you do NOT wish to be on the reminder system.
Facilities For Disabled Patients
A ramp for wheelchair access is available at all sites.
There is disabled parking available in the rear car parks.
A toilet for persons with disabilities is available at both sites.
Ambulance access is available at the rear of the buildings.
Children & Babies
A baby change table is available in the disabled toilets. We are a breastfeeding friendly practice though if you prefer to breast feed in private, please ask the receptionist.
Fees
The Australian Medical Association (AMA) fee structure forms the basis of our billing policy. We require full payment on the day of service for consultations (After hours, emergencies & Home visits excepted). A summary of fees is displayed at the reception counter or click on the link below. Our preferred method of payment is credit cards and eftpos. Please attend to your account from the receptionist before leaving the centre. If you are experiencing financial difficulties in making your payment, please speak to the Operations Manager to discuss payment plan options. All Insurance & Disability forms are filled out as part of a consultation. All Allianz Insurance Claim Consultations must be paid in full on the day until the claim has been accepted. For Angaston Medical Centre fee's for common consult items, please click on the link below. For a more detailed schedule, please ask our friendly reception staff next time you are in the practice.
Concession Card Holders and Children Under 16 Years
From 1st November 2023 patients with a concession card (including Health Care Card and Pension Cards) and children under the age of 16, will be bulk billed for a regular consultation with their doctor. Please bring your card to all appointments. Some treatment room services will incur a fee. All outpatients at the Angaston Hospital are charged regardless of concession status or age. Outpatient services are charged at a different rate, please refer to the fee schedule.
Veteran Affairs: We currently Bulk bill all Veteran Affairs DVA Gold Card holders.
Additional Fees
This practice has a 'Did Not Attend Appointment' Policy. A patient who fails to attend an appointment without 1 hours notice or a valid reason will be charged a non-attendance fee. A patient who fails to attend a care plan appointment with our nurses without 24 hours notice or a valid reason will also be charged fee. Non-attendance fees are based on our current fees.